Treat Yourself to a Wonderful Day of Skating!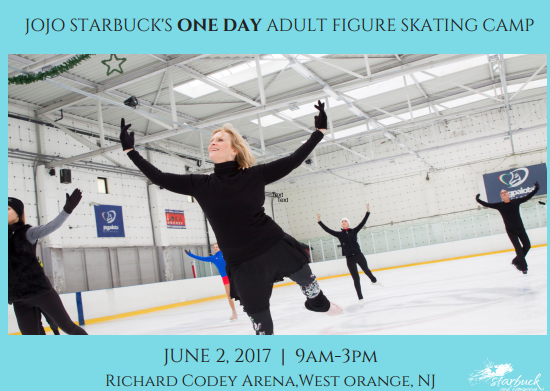 After years of teaching my Cool Workout Classes, I've put together this luxurious one day adult recreational figure skating  day camp.  The camp includes 3 hours of ice time, ballet class, a catered lunch and some fun socializing too! The day will be extra special as we will be joined by guest coach 6 time National Ice Dancing competitor Jordan Cowan and guest speaker actress, comedienne, former NYC Rockette Jennifer Jiles!
DETAILS:
Where:       Richard J. Codey Arena,  560 Northfield Ave, West Orange, NJ
When:         June 2, 2017, 9am-3pm
Cost:            $200
Register:    info@jojostarbuck.com
Join us as we focus on the beautiful edges found in figures, finding power in each stroke, improving your posture and confidence on the ice, refining edges, turns and learning some ice dance techniques and choreography!
Here's the schedule for this wonderful day of skating fun:
8:30 AM – Skaters arrive, stretch, coffee available
9:00 AM – Great 8's Figure Session  (with JoJo)
10:00 AM – Edge Class (with JoJo & Jordan)
11:00 AM – Ice Dancing and Freestyle choreography (JoJo & Jordan)
12:00 PM – Catered Lunch (at Arena)
1:00 PM – Guest Speaker Jennifer Jiles
2:00 PM – Ballet/Stretching Class Off Ice (with JoJo)
Hope to see you there…would love to spend the day on the ice with you!