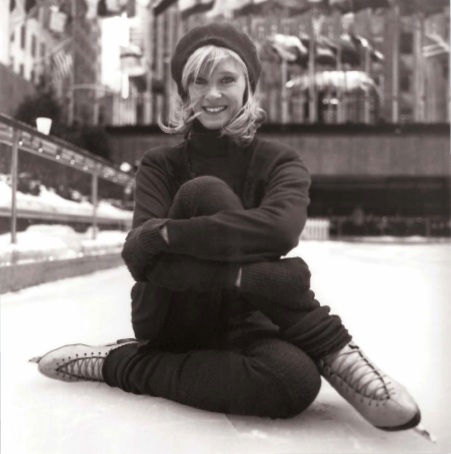 ---
American figure skating champion JoJo Starbuck has enjoyed a multi-faceted career as an athlete and artist, and now as a producer, spokesperson and coach. Whether skating in the Olympics, starring on Broadway, producing world class events, or teaching adult skaters, JoJo brings integrity, enthusiasm and dedication to her work.
AMATEUR CAREER
With her childhood skating partner, Ken Shelley, JoJo made skating history in 1968 when they became the youngest pairs team America ever sent to the Olympic Games. That was followed by victories in the United States Pairs Championships in 1970, 1971 and 1972. They were the first Americans to break the Soviet domination in the Pairs event by winning the bronze medal at the World Championships in 1971 and 1972. The pair then returned to the Olympics in 1972 capturing 4th place. In 1994, JoJo and Ken were inducted into the United States Figure Skating Hall of Fame.
PROFESSIONAL CAREER
JoJo Starbuck and Ken Shelley turned professional in 1972, headlining Ice Capades for four years. JoJo appeared in scores of television specials in the U.S. and abroad. From 1977 through 1980, JoJo partnered with Olympic champion John Curry in his highly acclaimed Ice Dancing on Broadway, at New York's Metropolitan Opera House and around the world. This gave JoJo the opportunity to work with world-renowned dance choreographers, strongly influencing her approach to ice choreography and production elements.
STARBUCK & COMPANY
JoJo now directs Starbuck & Company, a special events production group. From staging and directing shows for network television, to producing private party entertainment and corporate affairs, Starbuck and Company custom tailors ice skating entertainment, promotional, and fund raising events.  From October 1993 through 1995, JoJo staged and choreographed Skates of Gold, the first international figure skating event with a cast of exclusively Olympic Gold Medalists. This television special aired on ABC and NBC.
JoJo has hosted and commentated for televised and live skating events. She has often been invited to be a motivational speaker about her experiences during her Olympic and professional career.
For over 15 years, JoJo has produced the celebrated annual opening of The Rink at Rockefeller Center. Since 1988 she has been the Head Pro and spokesperson for The Rink where she continues to run the popular JoJo's Cool Workout Classes. She has also enjoyed working with various World and Olympic skaters on choreography and currently conducts skating workshops for young and adult skaters.
Learn more about Events by Starbuck & Company.
PERSONAL LIFE
Aside from the world of skating, JoJo is an active supporter The Walter Hoving Home for Girls, World Vision, Compassion Intl. and Prison Fellowship. She has  performed in two feature films, and authored an autobiography. She and her husband, architect Jeff Gertler, reside in Madison, New Jersey, with their twin sons, Noah Starbuck Gertler and Abraham Starbuck Gertler, now attending Vanderbilt University and MIT.