Richard J. Codey Arena West Orange, NJ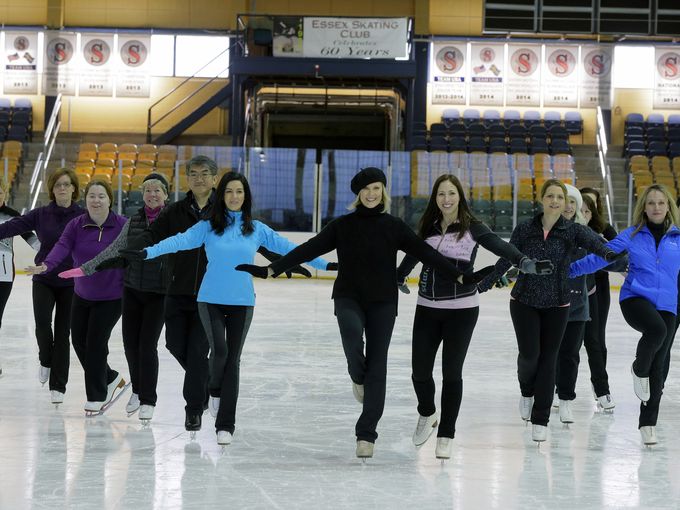 JOJO'S "COOL WORKOUT" CLASS:
Classes at the Codey Arena are perfect for all levels of adult recreational skaters and beginners. During JoJo's Cool Workout Classes, skaters learn stroking, gliding, turns, spins, combinations and more all at their own pace. Bring a friend and have fun as you strengthen your core and legs, enhance your posture and balance, and get an awesome low impact cardio workout!
JoJo's Cool Workout class take place on Thursdays at 12:15 PM           $30-40 per class

JOJO'S GREAT 8'S CLASS

Compulsory school figures…they are the foundation for EVERY skating move!  Sadly, they were abandoned from World and Olympic competition about 20 years ago.  However, recently, there has been a resurgence of interest in them!
JoJo judged the first World Figure Championship in Lake Placid, NY with a group of World and Olympic Champions. This gentle, elegant discipline is incredibly challenging! It teaches tremendous skill for all of skating and really tones your muscles!
Come join us to develop your balance, core strength and control while gliding around your figure 8's.  You'll learn all the turns and edges during these classes. Each skater has their own strip of ice from barrier to barrier, to practice their edges and 8's. It's a beautiful way to focus on these basic, yet challenging techniques.
"Great 8's Classes" take place at the Codey Arena on Tuesday at 12:15 PM          $30-40 per class

Here's all you need to get started:
Dress in warm layers that you can peel off as you warm up.
Wear a hat and gloves and wrist guards are good too.
Wear thin socks or tights under your skates.
Learn to lace up your skates correctly. For more info click here
Owning decent skates can greatly enhance your enjoyment and advancement.
A good teacher who knows the basics well, is fun, patient and encouraging.
An adventurous attitude and PATIENCE!
Bend your knees, breathe and have fun!
Classes average 8-12 skaters.
PRICING
Skating classes are sold in monthly series of 2 classes each week or 1 class each week. Each class is $30, walk ons are $40 and payments are due on the day of your first class of the month.  For a typical month:
"2-a-week package" = $240 for the month (8 classes)
"1-a-week package"  = $120 for the month (4 classes)!
These prices include ice fees.
To reserve your place in class, contact info@jojostarbuck.com