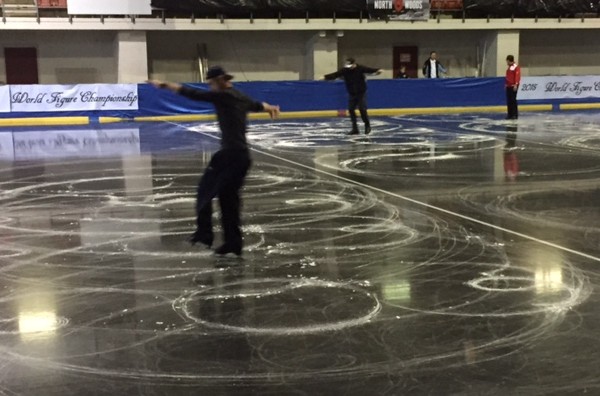 This past August 25-29, Karen Courtland Kelly and her husband, Patrick Kelly produced the inaugural World Figure Championship in Lake Placid at the 1932 Olympic Arena.   The week was a celebration for many purists in skating (myself included) who find tremendous beauty and elegance in these demanding compulsory school figures.  They demand incredible strength, control and determination, yet are gentle, exact and can be done for a lifetime!  Skaters practice on their own strip of ice called a "patch".  They are done slowly compared to freestyle skating.  Figures gave exquisite edge quality, flow and beauty to skaters for decades, before figures eliminated in 1990.
Many skaters came to Lake Placid to learn more about figures in the Figure Festival which was followed by the World Figure Championship. There were two unique factors in this event which differed from any previous figure competitions.  One was that the ice was painted black, so that the audience in the stands could see the tracings as they were skated!  This engaged the audience as never before!  The second factor was that the judges were not allowed to watch the figures being skated.  A referee watched and took deductions for figures not skated completely or if an error was made.  However the judges walked the entire ice surface judging the figures after the skaters had left the ice.  No bias involved!
It was truly an honor for me to serve as a judge at this inaugural competition along with  1972 Olympic champion Trixi Schuba, 1972 Olympic bronze medalist Janet Lynn, two-time world champion Tim Wood, two-time world medalist Julie Lynn Holmes, 1962 world champion Don Jackson, 1969 Canadian national champion Linda Carbonetto Villella, 1963 national champion Tommy Litz, World Championship competitor Andra McLaughlin Kelly, and U.S. Junior national medalist and Olympic/world coach Slavka Kohout Button. Well-known ABC producer Doug Wilson and two-time Olympic champion and skating legend Dick Button were also in attendance to lend their support for the inaugural event. 
I can see that figures have begun to have traction again with skaters across the country.  My skaters focus on figures once a week and the Codey Arena, where I teach, has just begun having 2 Patch sessions a week!  For more information on the World Figure Championship & Figure Festival, go to www.worldfigurechampionship.com. For more information about the new World Figure Sport Organization, visit their new site: www.worldfiguresport.org.